Top 10 filmes sobre dança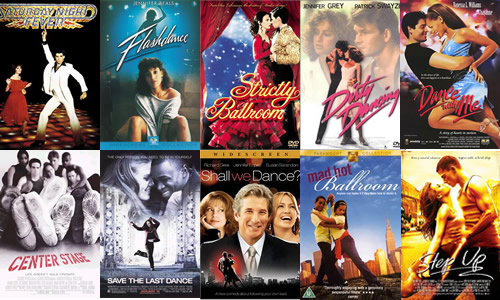 Há filmes que mexem connosco e há filmes que mexem connosco literalmente! A magia da dança sempre contagiou os realizadores de Hollywood, que não se cansaram de produzir histórias dançantes com actores naturalmente talentosos e outros que tiveram de aprender a dançar para nos mostrarem o que valem e que, no espírito do rodopiar, não se saíram nada mal. Inspire-se nos passos, estilos e alegria destes bailarinos da tela cinematográfica.
1. Saturday Night Fever – "Febre de Sábado à Noite" (1977)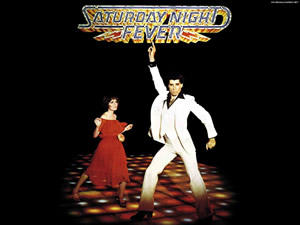 Saturday Night Fever é John Travolta e, na papel de Tony Manero, um mecânico que se transforma em dançarino aplaudido, empresta outro ritmo às fervorosas noites de sábado nos loucos anos 70. Claro que uma pista de dança não está completa sem um par, por isso, Tony conhece Stephanie (Karen Lynn Gorney) e juntos competem numa prova de dança, apoiando-se mutuamente para que possam perseguir os seus sonhos, tanto dentro como fora das discotecas. Numa época em que reinava o poliéster, as calças à boca-de-sino e as bolas espelhadas, ainda há muito para se aprender. Deixe-se contagiar por este regresso ao passado da dança, uma era que marcou todas as outras que lhe seguiram.
2. Flashdance (1983)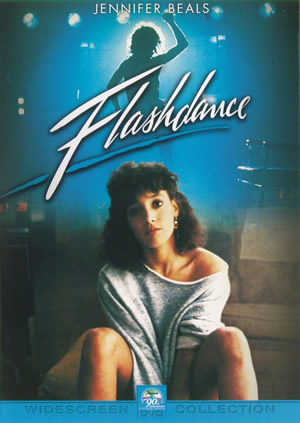 O clássico de todos os clássicos e um fiel retrato dos anos 80, Flashdance conta a história da Alex Owens (Jennifer Beals), uma mulher de armas que de dia trabalha como soldadora e à noite é dançarina exótica, enquanto sonha conseguir um lugar numa prestigiada companhia de dança. Motivada pelo seu chefe/namorado, Nick Hurley (Michael Nouri), Alex dança até não poder mais, que é como quem diz, até concretizar o seu sonho. É caso para dizer: what a feeling!
3. Strictly Ballroom (1992)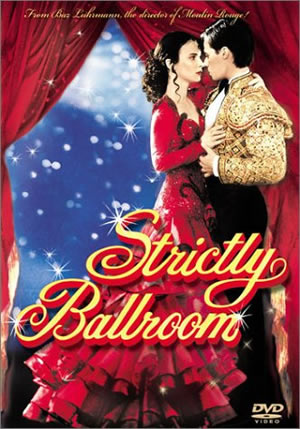 Se adora danças de salão, este filme é para si. Não falta nada nesta comédia romântica australiana – desde roupas e sapatos fantásticos, a coreografias cativantes e passos que não falham um único ritmo – onde o dançarino profissional Scott Hastings (Paul Mercurio) e a sua aprendiza Fran (Tara Morice) ousam desafiar todas as convenções das tradicionais danças de salão. A apresentação do Paso Doble na prova final do filme é de chorar e querer dançar por mais!
4. Dirty Dancing (1997)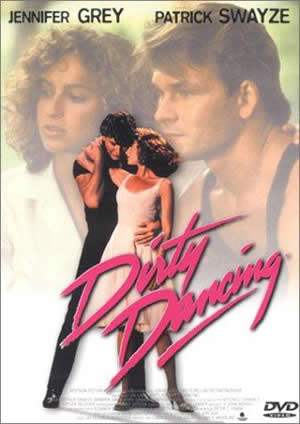 Um clássico que dispensa apresentações, Dirty Dancing é uma "bíblia" para dançarinos, profissionais e amadores, apaixonados e curiosos. Se já o viu uma dezena de vezes (como quase toda a gente!), agora veja com olhos de aprender! Ao som da música e com a paixão pela arte de dançar a correr-lhes pelas veias, Frances "Baby" Houseman (Jennifer Grey) e Johnny Castle (Patrick Swayze) sabem o que estão a fazer e querem que o mundo saiba. Frances é uma jovem proveniente de uma família prestigiada que se apaixona pelo seu instrutor de dança, Johnny, num campo de férias. O resto, como se costuma dizer, é dança… e, se possível, have the time of your life!
5. Dance With Me (1998)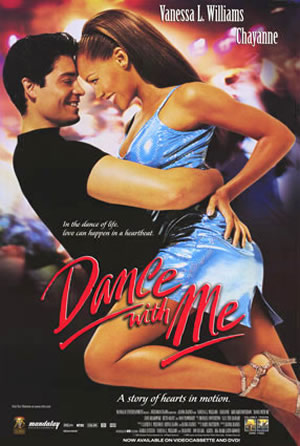 Num filme romanticamente latino, não podia faltar uma boa dose de dança sensual. Com a morte da mãe, o cubano Rafael parte para Houston em busca do seu pai, John, que desconhece a sua existência. John gere um estúdio de dança que fervilha com a excitação e os preparativos em torno de um campeonato que vai decorrer em Las Vegas. E como filho de peixe sabe nadar, Rafael mostra que nasceu para dançar, lado a lado com a estrela do estúdio Ruby, protagonizada pela bela Vanessa Williams. Com muitos ensaios, vários estilos e coreografias espectaculares, este é o filme que o vai levar a inscrever-se finalmente em aulas de dança.
6. Center Stage (2000)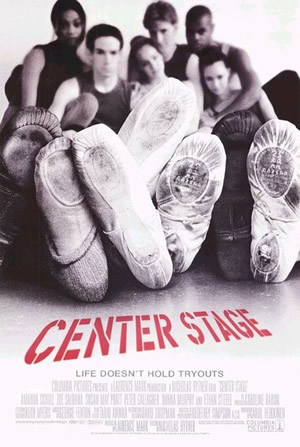 No meio do palco deste filme estão três jovens – Jodie, Eva e Maureen – que procuram o sucesso e a fama na prestigiada Academia Americana de Ballet… e depressa aprendem que a dança está cheia de obstáculos inesperados. Os movimentos, poses, posturas e trabalho de pés extraordinário é uma lufada de ar fresco que vai deixar todos a desejar terem dançado pelo mesmo caminho artístico. Acima de tudo, esta história mostra que a dança tem de ser um prazer e não um dever… aliás é mesmo assim que a imaginamos, não é?
7. Save the Last Dance – "Ao Ritmo do Hip-Hop" (2001)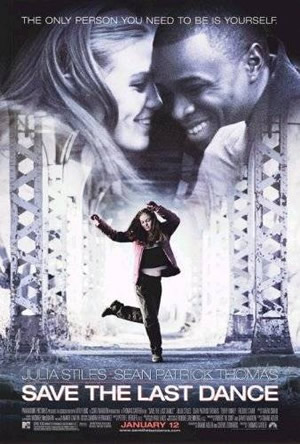 Depois da morte da mãe, Sara (Julia Stiles) vê-se obrigada a ir viver com o pai, numa zona da cidade maioritariamente negra. Consumida pelos remorsos – a mãe morreu num acidente de viação a caminho de um dos seus espectáculos de dança – a bailarina arruma os seus sapatos… até conhecer Derek (Sean Patrick Thomas), um jovem apaixonado pelo hip-hop e pela vida. Com uma química inquestionável entre ambos, só podiam mesmo entregar-se ao ritmo do hip-hop e não só. Apesar de ser um romance juvenil, a qualidade da dança neste filme é extraordinária… não vai aguentar-se muito tempo no sofá!
8. Shall We Dance – Vamos Dançar? (2004)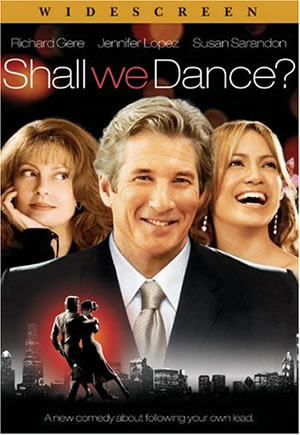 John Clark (Richard Gere) é um homem que tem tudo, incluindo a felicidade, mas na viagem diária entre o trabalho e a casa, cruza olhares com uma bela mulher num estúdio de dança, o que o leva a inscrever-se no mesmo. Em vez de a linda Paulina (Jennifer Lopez) é a Miss Mitzi (Anita Gillette) que acaba por ser a sua instrutora. John depressa percebe que o que lhe faltava na vida não era um affair, mas sim uma nova paixão… a paixão pela dança. Obcecado com o seu novo hobby, John trava uma amizade sincera com Paulina e começa a treinar para uma importante competição… sempre às escondidas dos familiares e amigos. Claro que a sua mulher Beverly (Susan Sarandon) rapidamente se apercebe do estranho comportamento do seu marido… será que ela vai aprovar os passos que o marido tem andado a dar? É um regalo ver Jennifer Lopez e Richard Gere deslizar pela grande tela.
9. Mad Hot Ballroom (2005)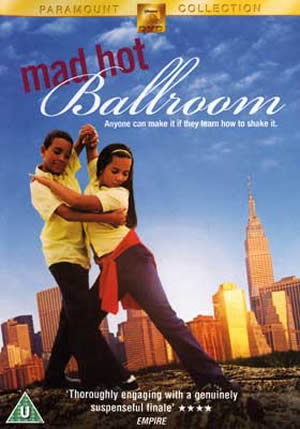 Qualquer pessoa – nova ou velha, homem ou mulher – pode aprender a dançar: é essa a valiosa e divertida lição deste documentário que regista como um grupo de crianças de 11 anos, provenientes de três escolas públicas de Nova Iorque, aprenderam a dançar em muito pouco tempo. Inicialmente relutantes em entregarem-se ao tango e ao swing, é vê-los transformarem-se em damas e cavaleiros para se apresentarem, com pompa e circunstância, no campeonato final da cidade. De fazer abrir bem os olhos e deixar muitas bocas abertas, talvez esteja aqui a motivação que lhe falta…
10. Step Up (2006)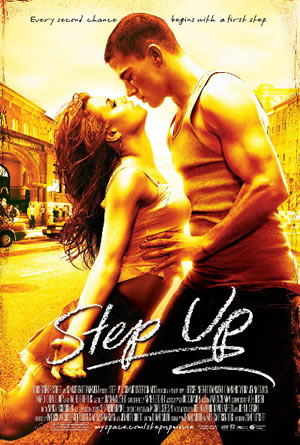 O acaso junta Tyler Gage, um adolescente rebelde a cumprir serviço comunitário e Nora Clark, uma bailarina de ballet de enorme talento. Ele precisa de encontrar o seu rumo na vida, ela precisa de um parceiro para convencer, de uma vez por todas, o mundo da dança. Será que a pista os consegue juntar? Realizado por Anne Fletcher e protagonizado por Channing Tatum, Jenna Dewan, Domaine Radcliff, De'shawn Washington, Drew Sidora, Rachael Griffiths, delicie-se com mais de hora e meia de bons ritmos, algum romance e uma cena numa discoteca que não pode perder… aliás, aproveite para aprender alguns passos fantásticos!