Vamos dançar o tango?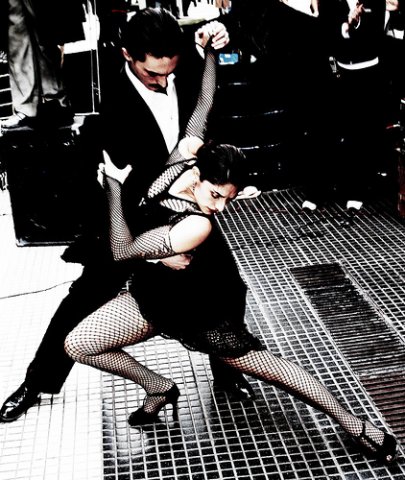 Intenso. Dramático. Sensual. Assim é o Tango. Nascido nos bairros mais pobres da Argentina, o Tango é hoje uma das danças mais populares, desejadas e aplaudidas em pistas de todo o mundo. O seu ritmo energético, movimentos rápidos e concisos, posturas sensuais e perfeitas, são simplesmente magnetizantes.
O que é o Tango?
O Tango foi a terceira dança no mundo a ser executada por um homem e uma mulher em contacto directo, sendo que o homem segura a mão direita da mulher na sua esquerda, abraçando-a com o braço direito. Nos primórdios das danças de salão, o par mantinha uma distância bastante grande, normalmente de braços completamente esticados ou, se muito, davam as mãos. A primeira dança a aproximar os bailarinos um do outro foi a Valsa, seguida da Polka e depois o Tango. Mas o Tango trouxe com ele uma novidade que as suas predecessoras não tinham – o improviso. É como diz Al Pacino no filme The Scent of a Woman: "The Tango is the easiest dance. If you make a mistake and get tangled up, you just Tango on."
O primeiro passo
Embora o Tango tenha as suas origens na Argentina, a verdade é que foi fortemente influenciado pelas várias danças e músicas trazidos das suas terras natais por imigrantes espanhóis, italianos e franceses. Da forma como a conhecemos hoje, tudo indica que já se ouvia o Tango em solo argentino no ano 1857, numa altura de grandes vagas de imigração masculina. Nessa fase da sua história, existiam poucas mulheres na Argentina (pelo menos comparado com o número de homens que entretanto chegaram) e só existiam dois locais onde um homem pudesse encontrar uma mulher. Um era num bordel, mas mesmo aí tornava-se complicado, com os homens a formarem longas filas de espera. Confrontados com este cenário, os proprietários dos bordéis viram-se obrigados a "entreter" os seus clientes, para garantir que não se cansassem de esperar. O que fizeram? Contrataram músicos de Tango para animar os homens que, aproveitando o tempo livre e os ritmos, praticavam e aperfeiçoavam os seus passos de dança. Porquê? Porque o segundo local para conhecer mulheres eram nas festas e salões de dança, onde dado o ratio homem-mulher a competição era tão feroz que as mulheres apenas queriam estar com os melhores dançarinos. Era um mundo de vaidade, exibicionismo e improvisação – era o Tango que ganhava vida. A dança foi levada para os bairros onde todas as noites alguém dançava e tocava; e igualmente difundido para as classes médias e altas, porque também esses homens frequentavam os bordéis.
Da Argentina para a Europa
O Tango chegou à Europa, mais especificamente ao porto de Marselha no início do século XX, levado na bagagem pelos marinheiros argentinos que não perderam tempo a ensiná-lo às francesas… que, por sua vez, adoraram. A popularidade do Tango estava no simples facto de ser uma dança que envolvia os dois bailarinos como casal, permitindo ainda, e pela primeira vez na pista de dança, o improviso. E as coisas estavam apenas a aquecer… Entretanto, a Argentina vivia um dos capítulos mais prósperos da sua história, sendo na altura o 7º país mais rico do mundo – um estatuto que permitia que os argentinos abastados enviassem os filhos para estudar na Europa. Esses não saíram de casa sem o seu Tango e, embora a dança ainda não era muito bem vista nos prestigiados círculos sociais de Buenos Aires, em Paris, ninguém queria outra coisa, nem ricos, nem pobres.
O ano do Tango
1913 foi o ano do Tango, foi o ano em que a dança sensual cativou o mundo e todos queriam aprendê-la. Em Londres havia chás dançantes e um baile de Tango realizado na famosa loja Selfridges foi considerado o evento do ano. Em Paris, as francesas abandonaram os corpetes porque não permitiam dançar o Tango livremente. As penas horizontais que se usavam nos chapéus passaram a ser verticais para não interferir com o par e houve uma explosão de novos produtos que as pessoas rapidamente consumiram: sapatos para Tango, meias para Tango, vestidos para Tango… e a cor desta moda era o laranja. Claro que no meio de tanta euforia também existiam críticas e reprovações, mas o Tango dançou sempre mais alto. Depois de tanto sucesso mundial, o que fizeram os Argentinos? Reimportaram o Tango claro!
Uma questão de postura
Considerada uma dança de salão, actualmente existem três tipos de Tango: o estilo Internacional, o estilo Americano e o estilo Argentino. Dançado de perto, é o ombro esquerdo que conduz, enquanto o resto do corpo se mantém ligeiramente inclinado. Na posição inicial, os corpos estão em contacto, os joelhos estão ligeiramente comprimidos e os pés juntam-se verticalmente, ou seja a ponta do pé direito está junto à parte interna do pé esquerdo. A mulher posiciona-se sempre um pouco à direita do homem. Com passos bastante fáceis de aprender (são 8 os principais), o mais difícil é manter a postura rígida que desencadeia os movimentos intensos, dramáticos e muitas vezes arrastados, tornando os dançarinos num par de predadores que, através da dança, procuram captar e prender o outro. É uma espécie de tortura dançante que começa e acaba nos olhares fixados de cada bailarino…
Ritmo contagiante
Quem começa a aprender o Tango tem quase sempre já uma noção da sua música – é daquelas que não sai da cabeça e só apetece saber dançar, e dançar bem. Com um ritmo de cerca de 120 batidas por minuto, os sons típicos do Tango são compostos por uma pequena orquestra de violino, piano, guitarra, flauta e bandoneón – uma espécie de concertina que pode muito bem ser a alma desta música. A beleza do Tango está assente na harmonia perfeita entre o trio que é a sua música, os seus movimentos e os seus bailarinos.
Vídeo de demonstração