Top 10 pares de bailarinos famosos do cinema clássico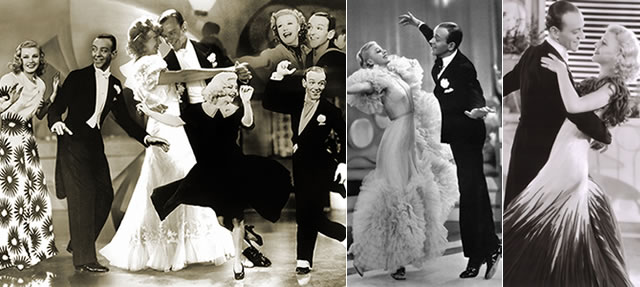 Dominado por um grupo restrito de excelentes bailarinos, não é de estranhar que nomes como Fred Astaire, Ginger Rogers, Gene Kelly e Rita Hayworth componham os pares de bailarinos mais famosos do cinema clássico. Vamos viajar no tempo com alguns dos passos de dança mais mágicos de sempre…
1. Fred Astaire e Ginger Rogers – Roberta (1935)
Considerado um dos melhores bailarinos masculinos de todos os tempos, Fred Astaire, que praticamente dispensa apresentações, dançou durante 76 dos seus 88 anos de vida, tendo protagonizado 31 filmes musicais, 10 dos quais com Ginger Rogers. Juntos, Fred Astaire e Ginger Rogers são considerados o par de bailarinos mais famoso de sempre e a coreografia "I Won't Dance" do clássico filme "Roberta" é apenas um de muitos e bons exemplos.
2. Fred Astaire e Eleanor Powell – Broadway Melody (1940)
Ator, cantor, bailarino e coreógrafo, Fred Astaire fez ainda duo com Eleanor Powell, uma atriz e bailarina muito conhecida das décadas de 30 e 40 pela sua energia imparável e capacidades extraordinárias em sapateado. No musical "Broadway Melody" ambos mostram, não só a sua sincronização perfeita, como o seu talento puro em estonteantes coreografias de sapateado. Imperdível…
3. Fred Astaire e Rita Hayworth – You'll Never Get Rich (1941)
Fred Astaire teve o privilégio de dançar com muitas beldades da sétima arte e a icónica Rita Hayworth foi uma delas. No filme "You'll Never Get Rich", Fred Astaire e Rita Hayworth dominam a grande tela com a sua elegância e à vontade. Tendo a música "So Near and Yet So Far" de Cole Porter como impulso, este duo de bailarinos famosos do cinema clássico, fazem a dança parecer realmente fácil.
4. Gene Kelly e Leslie Caron – An American in Paris (1951)
A cores e ao vivo, "An American in Paris" é um dos grandes clássicos de Hollywood, assim como são as coreografias produzidas para Gene Kelly e Leslie Caron (uma atriz e bailarina francesa que protagonizou mais de 40 filmes) que mostram a todos que é assim que se dança… com segurança, enorme cumplicidade emocional e movimentos perfeitos.
5. Fred Astaire e Cyd Charisse – The Band Wagon (1953)
Divertido e dinâmico, assim é este filme, assim é o par de bailarinos imparáveis composto por Fred Astaire e Cyd Charisse. Ostentando uma carreira rica com a participação em dezenas de filmes, onde mostrava todo o seu talento de bailarina, Cyd Charisse contracenou com Fred Astaire no filme "The Band Wagon" onde a química e a paixão pela dança entre ambos era verdadeiramente contagiante.
6. Gene Kelly e Cyd Charisse – Singin' in the Rain (1952)
Tão popular como Fred Astaire, só mesmo Gene Kelly. Este ator, cantor, bailarino, coreógrafo, diretor e produtor esteve sob as luzes da ribalta entre 1938 e 1994, sendo o papel de Don Lockwood no clássico "Singin' in the Rain" um dos momentos altos da sua carreira. Neste filme de 1952, Gene Kelly mostra como se dança ao lado de Cyd Charisse que, tendo dançado com Gene Kelly e com Fred Astaire afirmou que "são as duas maiores personalidades da dança que alguma vez estiveram na grande tela, mas compará-los seria como comparar maçãs e laranjas… são ambos deliciosos…".
7. Marlon Brando e Jean Simmons – Guys and Dolls (1955)
Marlon Brando, o galã de Hollywood e Jean Simmons, uma divertida atriz britânica, protagonizam um colorido e inesperado samba no filme musical "Guys and Dolls". Um clássico da década de 50 que mostra a irreverência, o poder e a sedução da dança, seja ele um samba ou qualquer outro género.  
8. Deborah Kerr e Yul Brynner – The King and I (1956)
Assistir à coreografia de uma polka nunca foi tão divertida como no filme "The King and I", vencedor de cinco Óscares. Os bailarinos Deborah Kerr e Yul Brynner protagonizam uma das coreografias e cenas mais divertidas do filme com o tema "Shall We Dance". Uma prova clássica de que a dança e o divertimento devem andar sempre de mãos dadas…
9. Cary Grant e Sophia Loren – Houseboat (1958)
Um retrato perfeito de glamour, elegância e química, quando Cary Grant e Sophia Loren dão as mãos no salão de baile, parece não existir mais nada em redor. O carisma de um e a beleza de outra, juntamente com o tema "Almost In Your Arms", são os ingredientes perfeitos para uma dança perdidamente romântica…
10. Julie Andrews e Christopher Plummer – The Sound of Music (1965)
Um filme inesquecível, um romance arrebatador, uma dança no jardim ao luar que é uma verdadeira manifestação de amor e união… Assim acontece com Julie Andrews e Christopher Plummer onde, nos papéis da ama Maria e do Capitão Von Trapp, dão-nos música e dança para o coração…